An interview by Dede Demet Barry with Julie Young, appearing on the Mariposa Bicycle Company website
We visit with Julie Young, a former professional and US National cycling team member who is currently based in Sacramento, California, where she works as a Sports Scientist and coaches endurance athletes. Julie shares her insight on training, mindset, power data, youth development and how we can get more young girls on bikes.  She offers some valuable guidance based on science and experience.
Your athletic career began as an all-league soccer player and alpine ski racer. After a knee injury, you made a hard pivot to pursue golf, eventually playing at UCLA, where you became an NCAA Academic All-American. When we met in the 90's, you had just graduated from UCLA and had started cycling.  Can you tell us about how and when you became interested in cycling? 
For some reason, and I am not exactly sure where or how this came into my head, but I was always enamored with the Euro tradition of cycling. I wanted a celeste green Bianchi bike. As a kid I was always seeking out any and every kind of activity. I was always pestering my Pop for extra chores to earn money, which I eventually used to buy parts and build a bmx bike. It seems every Christmas I would always ask for some kind of new bike. So for whatever reason, biking caught my attention early in life. I became more acquainted with cycling as a mode of training when I was an alpine ski racer.
When I was a UCLA, I became disillusioned with the golf team, as the coach would hold qualifying and I would qualify for the tournaments but she would take her new recruits, I guess to justify her recruiting decisions. I came to a crossroads as to whether I would transfer to a small liberal arts college in order to join a new golf program and pursue golf as a career, or stay at UCLA and forfeit my position on the golf team in order to pursue a degree from UCLA. I did some soul searching and realized that I did not love golf, and that I valued a degree from UCLA more than I valued the opportunity to continue pursuing golf. Once I hung up the clubs, I still wanted to have an athletic outlet, so I bought a road bike and started riding in the Malibu canyons and running 10ks.
When I graduated, I returned to Sacramento and took a job in foreign investment and just rode the same 40-ish miles every day. Then one night, one of the local news stations did a human interest story on the McKinley brothers who lived in Sacramento, raced for 7-11 and were gunning for the Olympics. And I thought, "Bike racing? I want to do that!" Before hearing this story, I had no idea that bike racing even existed in the US. So the next day I immediately ran down to the local bike shop to figure how I could start bike racing.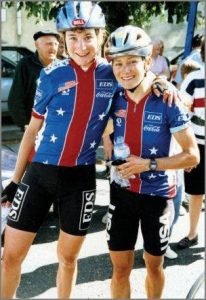 We first connected at a U. S. National Team camp in Texas in 1991.  We were both relatively new to the sport, at least at that level.  But I could tell right away that you were an exceptionally gifted athlete who liked to work hard. I have great memories of riding, racing and exploring Europe together. Can you tell us what stands out to you as the highlight of your career? 
For me most of the highlights of my career took place in Europe. And honestly, the first things that come to mind for me, are racing and living (between races) in Europe with you. I think about the two of us stashed away between races staying in obscure places, like the little house in Germany where we had to fend for ourselves, kept ourselves entertained by poaching corn out of corn fields :). Obviously this was all pre- fancy Team US Service Course and European base camp. Not to speak for you, but I think we both loved and thrived in the European race scene and fully embraced everything that came with it, including the foreign-ness of it and tradition and culture. I think this can either make or break a North American rider who tries to compete in Europe.
I personally thrived in the chaos and hecticness that characterizes European races because for me it created opportunity. I remember, the two of us, always fighting for position at the front, to capitalize on opportunities. Neither of us ever sat at the back. I loved the technical nature of the European roads – small, always twisting and turning and running through small towns. By constantly fighting for position at the front you can create opportunities out of this complexity. I remember so vividly, after one stage of the European Economic Community stage race, sitting on the curb with you, just feeling so fully and completely rung out. The mental and physical demands of these races, definitely made me feel like I was in a fight for my life, but for some strange reason, I loved it.  Because these races were so extremely challenging and complex in terms of courses, terrain, small roads, weather, and aggressive competitors, it was critical  to act swiftly on instinct and intuition in order to be successful. That's what I really loved about it.
To read the rest of this interview visit Mariposa Bicycle Company